Cost lines can be added to your estimate in a handful of ways, and you can add these costs in a way that is tied to your estimate or not.
On the Estimate
When you're on your project's Estimate, simply click on the menu options
to add or delete cost lines.
For choice selections, the cost lines can be added to the original budget or allowance, or to the individual choices, so you will be able to add or delete cost lines within each of those sections.
Any costs that you don't want to add to your selection sheet can be entered at the bottom of your Estimate in the "Other Line Items" section.
If you don't see an option to add or delete cost lines, it may be that the selection has been locked down by a change order. Once a selection is tied to a change order, additional costs cannot be added or removed to that selection unless the change order is declined, voided, or deleted.
On the Selection Sheet
When you're adding or editing a selection item on the Selections page, you will see options to add or update cost lines for your original budget and, if applicable, cost lines associated with the choices you present to your clients.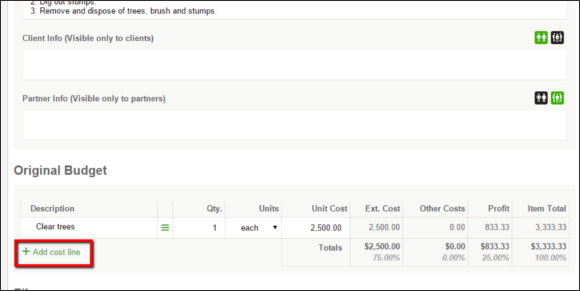 Note that you will also see this layout for adding cost lines when you add a selection directly to your project's Estimate, or if you click on any of the green selection item links on the Estimate: