Note: Client's must be given login access to view and interact with the Specs & Selections page. Client login access is only available on CoConstruct's Plus plan.
Clients who are logging into the system have a view of their project's Specs & Selections page that is very similar to the builder side view.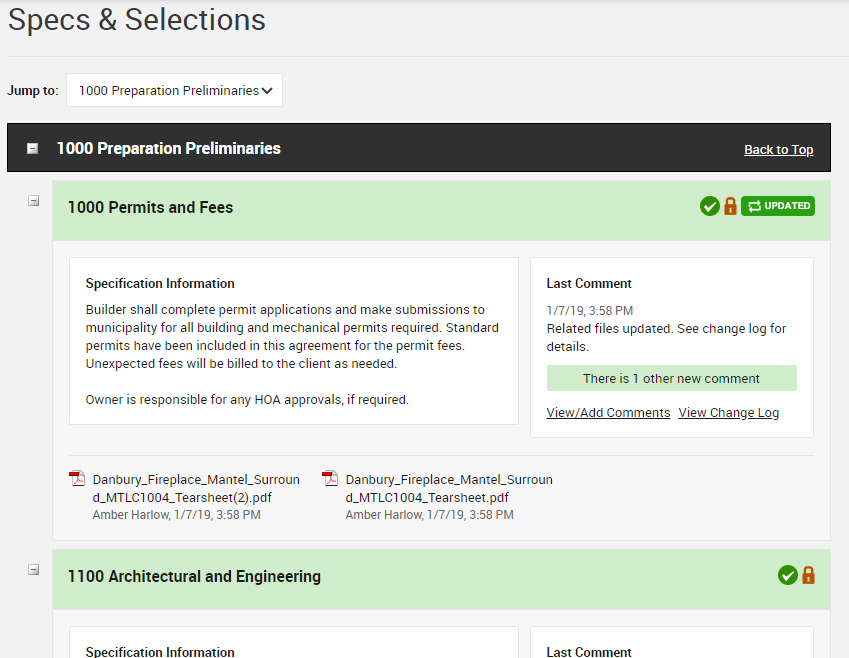 Clients see all items, including all choices and any input in the Specification and Client Information sections. Clients will not see the Trade Partner Information section.
Clients have full access to the change log, and can have access to all files, photos and comments that have been shared with them.
For any files that you don't want to share, toggle off the "Visible to Clients" icon next to the file in the Edit Spec/Selection window.

For any comments that you don't want to share, make sure the 2-person client icon is black when posting your comment.
If your clients have Email-Only access, they will not be able to view the Specs & Selections information. However, you can still share files attached to items and use the Comments section of the item to communicate with them on selections and scope of work to have their responses recorded in the project.
Any files attached to a Spec/Selection item that have been marked "Visible to Clients" will be sent to the client via email. They will also be attached to any communication emails sent to the client through the comments on that item.
You can always use the Client Preview feature to view the Specs & Selections of a project from the client's perspective. For more details on the Client Preview feature, reference our Help Center article How can I see what a project will look like for my clients?