The Task Manager
The Task Manager allows you to see ALL tasks in one place, and edit them all if you wish. You can see all or some tasks across all projects with a List, Calendar, or Gantt view by heading to the Task Manager.
You can also use the "Filter & Search" button from within the Task Manager to look for tasks by assignee, project, or by type. If you are only interested in seeing schedule tasks, for example:

Drag-and-Drop: Company-Wide Calendar & Gantt Views
Besides the list view in Task Manager, you also have tabs for calendar and Gantt views. You have full drag-and-drop abilities on to-dos, schedule tasks, and warranty items. And as you make changes, CoConstruct handles any notifications, just as if you were editing the details directly on a project-specific page.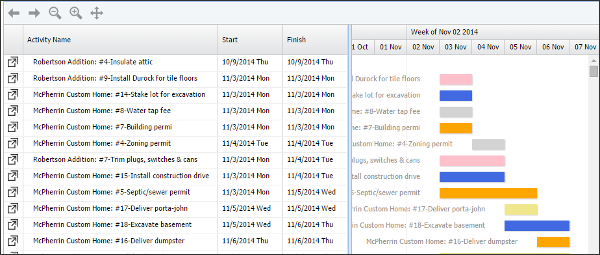 With your mouse or fingertip, you can literally see, manage, and update everything happening on every project in your company that day, week, or month, without even leaving the page.
Individual Task "Quick Edit Window":
Need to edit just one task you see? From the Task Manager's List, Calendar, or Gantt views, just double-click on any task row to launch the quick edit window, where you can edit the item name, due date, assignees, or any other editable field.