Keeping your clients updated about their home's progress is crucial. In CoConstruct, Summary Emails and Instant Alerts work hand in hand to keep your clients informed, without bombarding them with unnecessary messages.
SUMMARY EMAILS
Summary Emails can be sent daily (Monday through Saturday), weekly, or not at all. These emails report if there is something new, upcoming, or urgent on their project, such as new photos, pending change orders, or selections that need to be addressed. If there is nothing new to report, an email will not be sent.
INSTANT ALERTS
The Instant Alerts immediately notify clients of new comments, messages, questions, change orders, selection choices, and files/photos. They can then reply to those emails to have their responses logged on the project.
When you invite your clients to the project, you can select which of these alerts you want them to receive. Customize these preferences per client as appropriate.
You can check or adjust their notification settings at any time from the Project Setup. Use the ellipse icon (...) to make appropriate Edits.

Clients can also control these settings from their Personal Settings.
If your clients have email-only access, set up alert preferences for comments, messages, change orders, invoices, and file & photo uploads. Summary emails are not available for clients with email-only access.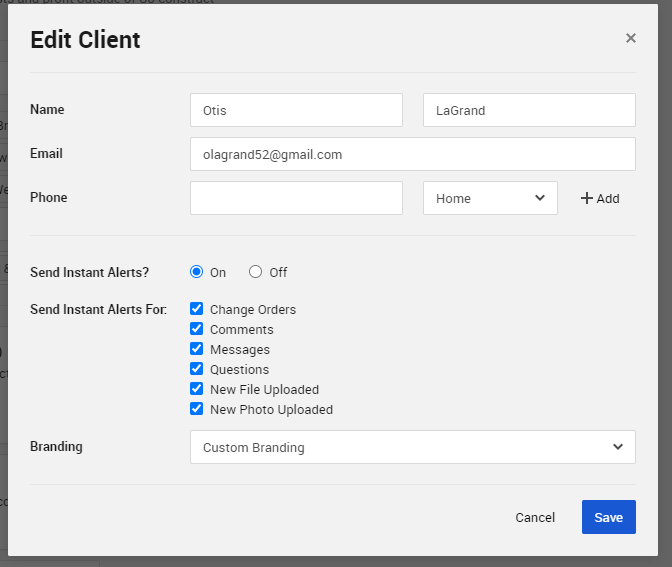 @MENTIONS
Use @mentions to tag specific clients in a conversation thread. This is a great use when you have multiple clients on a project or have added other parties like architects or designers as clients to direct only specific conversations to them.
Simple type an @ in the comment text box and select the individual's name from the drop down.
This will ensure the client gets the message regardless of their notification settings helping prevent a particular client user from having to receive notifications for ALL comments and messages shared with clients and only get those relevant to them.
Note: Client login access is only available on CoConstruct's Plus and Ramp plans. Core and Standard accounts are enabled to give clients email-only access.