When an account is linked with QuickBooks, but doesn't seem to be pulling in or updating Client Payments, there are a few steps that you can take to troubleshoot the issue.
In QuickBooks, confirm that the payment is recorded as a "Payment" or "Sales Receipt" and NOT a "Deposit". The easiest way to check this in QuickBooks is to navigate to Customers > select the Customer or Job name > view Transactions.
If you are using the Customer:Job setup in CoConstruct, verify that the payment is coded to the Job/Project rather than the main Customer. In QuickBooks, click into the payment or sales receipt transaction (NOT the Invoice) and confirm that it is coded correctly.

This is very important as QuickBooks will allow you to record the payment under the "Customer" and apply that payment to invoices entered under the "Job". In order for CoConstruct to pull the payment, the Payment must be entered under the Job as well.

After confirming that the payment is correctly entered in QuickBooks, ensure that the project in CoConstruct is correctly linked.


Navigate to the project Setup page > scroll down to QuickBooks integration > confirm that the "Link" option is selected and a Customer or Customer:Job are selected.
If the project is linked, ensure that it is linked correctly. If CoConstruct is linked to a "Customer", only payments coded to that main Customer will be pulled in. Similarly, if CoConstruct is linked to a Customer:Job, only payments coded to that particular Job in QuickBooks will be pulled in.
Finally, ensure that the "Client Payments" checkbox under the Automatic Sync options is selected.

If the account is linked with QuickBooks Desktop, run a sync on the Web Connector to ensure that it's syncing correctly and has recently been run. To do this, log into QuickBooks > select File > Update Web Services > check the box to the left of "CoConstruct Accounting Service" > Update Selected.

When the Web Connector has finished running, you should see both progress bars at 100% and the message "Connection Closed" under the status.
If there are any errors on the Web Connector status, contact Support@Co-Construct.com with the reference number provided.

If the account is linked with QuickBooks Online, or once the Web Connector sync has completed, navigate to the project in CoConstruct > Financials > Summary > select "Sync" on the right hand side. This sync can take a few minutes to run. After waiting a couple of minutes, refresh your browser page and check the last sync date to ensure it has updated.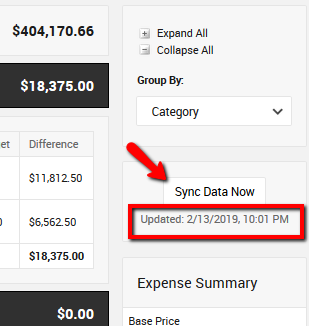 If after completing all steps above and confirming that a sync has been run (on both sides for QuickBooks Desktop), contact Support for further help.