Looking to quickly estimate based on project measurements and dimensions?
Parameters are here to help!
WHAT ARE PARAMETERS
Parameters contain all project measurements and dimensions used to obtain accurate quantities when estimating or pricing out work. To price out a kitchen remodel, for example, you might take measurements for the length and width of the entire kitchen, wall height, island size, and more. These are the parameters from which estimated quantities are constructed.
WHERE CAN I PUT PARAMETERS
Each project's estimate and Specs/Selections template offers housing for project specific measurements and/or standard measurements. Once entered in these locations, leverage the parameter values anywhere you see a quantity on the estimate, Specs/Selections page, Specs/Selection Template, or Change Order.
INPUTTING PARAMETERS
Simply open any project estimate or Spec/Selection template to get started. Click the "Parameters" button.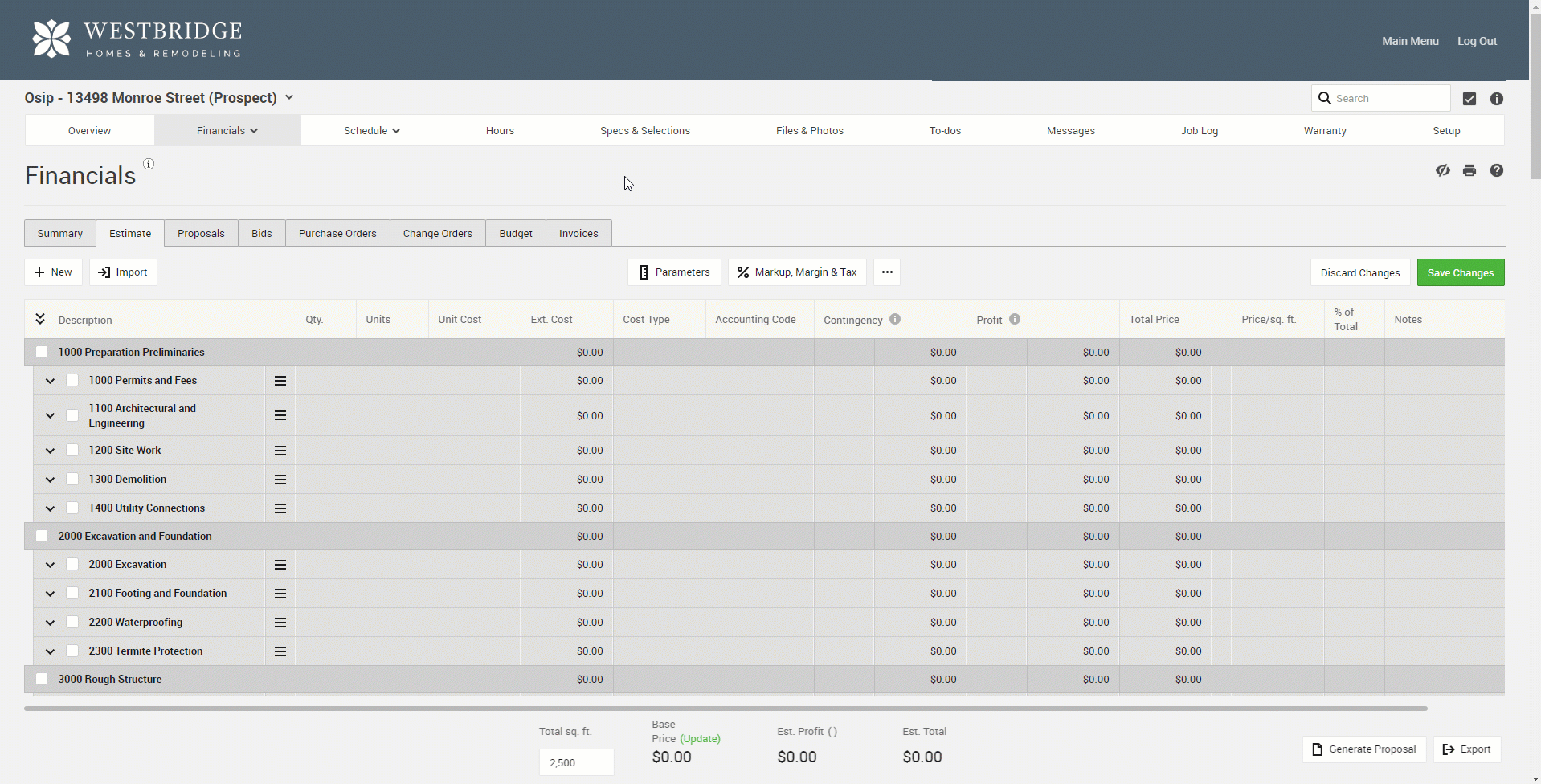 Add any measurements or dimensions by selecting "+ Add." Type out the name of the parameters followed by the measurement quantity.
My projects are unique but the types of measurements can be similar
Set up at least one Spec/Selection template with your standard scope of work and format. Include any parameters that represent common measurements you record regardless of the project.
Pro Tip: Set up standard parameters you typically use no matter the project on your Spec/Selection template with a quantity of "1." Once brought down to a project, you'll be able to simply put in the measurements for the project and see an estimate come together in a snap.
I have standard floor plans clients choose between
Set up each floor plan as a Spec/Selection template with the appropriate parameters detailing out the specific measurements.
LEVERAGING PARAMETERS TO ESTIMATE
As you estimate and account for costs, leverage the parameters via the quantity field. Start by typing a "=" in the quantity field for any cost, then either type out the name of the parameter you'd like to leverage OR use the parameter tool button to plug in the desired parameter.
Set up these quantity-to-parameter connections on your Spec/Selection template to make it that much easier to plug in measurements and see dollar values populate.
Use formulas to combine parameters together and enhance your quantity values.
Learn More: Calculating Quantities with Formulas
Note: This enhanced estimating function is only available on CoConstruct Plus plans.