Including your files in your email replies
Whenever a builder, client, or trade partner replies to an email notification sent by CoConstruct, their comment is posted in the corresponding area of the project.
If those replies have attachments, all of those will be pulled into CoConstruct and the posted comment or message will include links for quick access to the attached files or photos.
Users with instant alerts turned on will also have this direct link to the file available in their email notifications.
So, regardless of whether users are replying to task assignments, comments, messages, questions, or project summaries, you can use the links to view any of the email attachments within CoConstruct.
Clicking a link will take you into CoConstruct and ask you to log in (if you're not already). Once you're logged in, your file will open or download depending on your browser's default behavior.
If you still don't see anything after logging in, look for messages that a pop-up was blocked, allow pop-ups, and try the link again.


Where do the attachments go?
You'll always have the direct link to the file embedded within the posted reply within CoConstruct, as shown above. But, the attachment will also be automatically uploaded within the project, as well.
For example, if you reply back on a notification for a schedule task, you'll see the file uploaded directly to the corresponding task. Same goes for replies to comments on Specs & Selections, where the file will be uploaded to the corresponding item.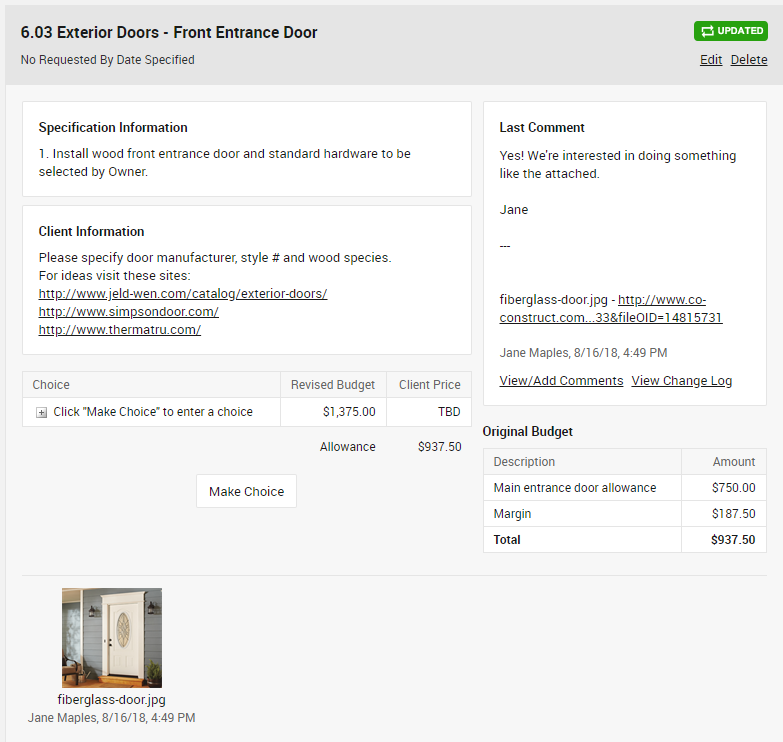 But, if a selection item is locked, or if the conversation is happening on a page that doesn't support direct attachments (such as messages), the attachment will be uploaded to the project's Files or Photos page.
In doubt on where to find an attachment? Just head to the Files or Photos page on the project, and click the link on the right to show "All Files."
When viewing the files in the site, you can edit descriptions, update trade partner/client visibility, or add labels to help organize your files.


Who sees these attachments?
Just like with the text portion of replies, we won't share any attachments with users who were not included on the original correspondence.
For example, if your reply is visible to builders and clients, the uploaded file will also be shared with builders and clients.
Trade Partner visibility, however, is a little more complicated. A conversation might only include one specific trade partner user, but file and photo visibility can only be set for sharing with all trade partners or none.
We don't want to assume that a file on a comment thread with one trade partner user should be visible to all of the other trade partners on the project. As a result, attachments are not automatically made visible to all trade partners.
If a client or builder replies to a comment thread that includes a trade partner, that trade partner will still be able to see the comment. But, they won't have permission to view the attachment unless you, as the builder, update the visibility from the Files or Photos page to share it with all trade partners.
Don't worry, though -- if you post a file on a reply, and we don't automatically share it with everyone for security reasons, we'll shoot you an email back right away to let you know, so you won't be left wondering.


Other details (for those of you who like fine print)
Trade Partners who don't have web access will still be able to receive email notifications for any replies, but will be unable to view the files that are attached, since the files require a login to CoConstruct to make sure they aren't shared with the wrong audience.
Worried about winding up with 100 copies of that logo in your email signature? Don't be. We have some logic in place to prevent files smaller than 1kb and photos smaller than 6kb from being processed.