The Activities and Types that you find in CoConstruct's Time Clock can be completely customized for your company!
Whether you're tweaking these lists when you're first getting set up, or updating your settings at any point, this area of the system is built to work with your company's needs.
An Admin user can manage your company's time clock activities and types by going to the Time Clock and clicking the "Settings" button at the top of the page or by going to your Settings > Accounting page.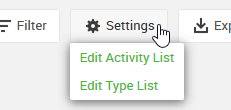 Customizing Time Clock Activities
Your time activities are tied to your company's list of accounting codes.
Simply select from your list of accounting codes to designate the codes that you want to use for time activities.

By default, we'll try to select any labor codes from your list of active accounting codes, but you can always customize this list, or jump directly to the Accounting Codes page if you need to add or remove codes.
Customizing Time Entry Types
By default, you can track these different types of time with the Time Clock:
Regular
Sick
Overtime
Vacation
But, this list can always be updated if you want to add, delete, or rename types.
Renaming a "Type" will revise all of your existing time entries to reflect the new naming convention.
Deleting a "Type" will inactivate the types that you can select from for new time, but you may find that historical time entries will still be associated with that deleted type.
If you intend to use the "push" time entries to QuickBooks, you'll want to review the following article to make sure that the setup to QuickBooks is also completed.
Note: The Time Clock function is only available on CoConstruct's Standard or Plus plans.