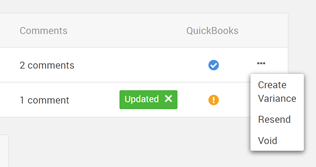 Voiding a purchase order
After a purchase order has been released and taken out of draft status, you won't be able to completely delete the document from your account. This keeps any communication and paper trail history tracked within the system.
But, for those cases where you need to void a purchase order, you can do so by clicking the "..." icon next to the purchase order's name and selecting "Void".
Voided purchase orders will no longer show up as committed costs on your budget, and will not count toward the purchase order total amounts that you see on the Purchase Orders page.
If you have an error in a purchase order that you will not be correcting with a variance purchase order, you can void the document and create a brand new purchase order.
Resending a purchase order
To resend a purchase order, click the "..." icon next to the purchase order and select "Resend." This will email a copy of the purchase order to the partner to whom the document has been issued.
Just like with the initial email notification, your partners will be able to simply reply to the emails to post comments back to you.