Harness the power of 3-way communication to ensure everyone stays informed, information is properly organized, and decisions get documented in a fool-proof paper trail.
HOW IT WORKS
Communication on a project involved members of your team, the client(s), and any trade partners involved in supplying or performing the work. These conversations revolve around the scope of the project, making the Specs & Selections page the perfect place to have these discussions.
Who = Your Team + Client(s) + Trade Partners

Where = Specs & Selections
To start a conversation:
Find the Specification or Selection item under discussion

Select

View/Add Comments

In the

Team Members

column, type out the comment

Attach any relevant files/photos

Share the message with the appropriate parties

Send the message
Anyone included in the conversation will receive a notification (depending on their settings) which they simply respond to in order to keep the conversation flowing.
Sharing Conversations
Depending on who you need to talk to, there are a couple of options available for sharing out a comment. No matter how you end up communicating, notice that the Team Members column sits in the middle between Clients and Trade Partners, ensuring no conversations happen without your knowledge.
1. Communication with Team Members
The Team Members column offers a private place for you and any team members with access to the project to communicate. Leave all visibility icons black to keep discussions internal.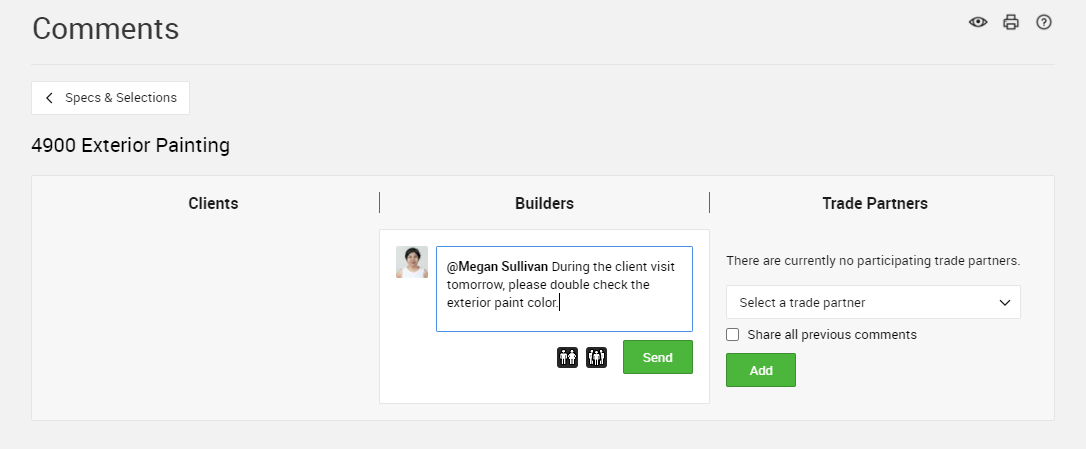 Need to ping a specific Team Member? Use an @ followed by the team members name to ensure comments send to specific team members. Even if a team member has all comment notifications turned off, they still receive an alert when mentioned in a comment.
Use the file icon to attach any relevant files or photos. Any attached files will be included with the email comment notification.
2. Communication with Clients
To share comments with clients, turn the client visibility icon green and see communication sharing span both the Team Members and Clients columns.
With this set up, you and your team can confidently communicate with the client(s) on the project. Use @ with a clients name to ensure that a particular client receives a notification for the comment. Use the file icon to attach any relevant files or photos with your response. Any attached files will be included in the email notification as an attachment.
3. Communication with Trade Partners
To share comments with trade partners, select Trade Partners under the visibility menu and see communication sharing span both the Team Members and Trade Partners columns. Pick which trade partner to communicate with using the drop down or by mentioning them.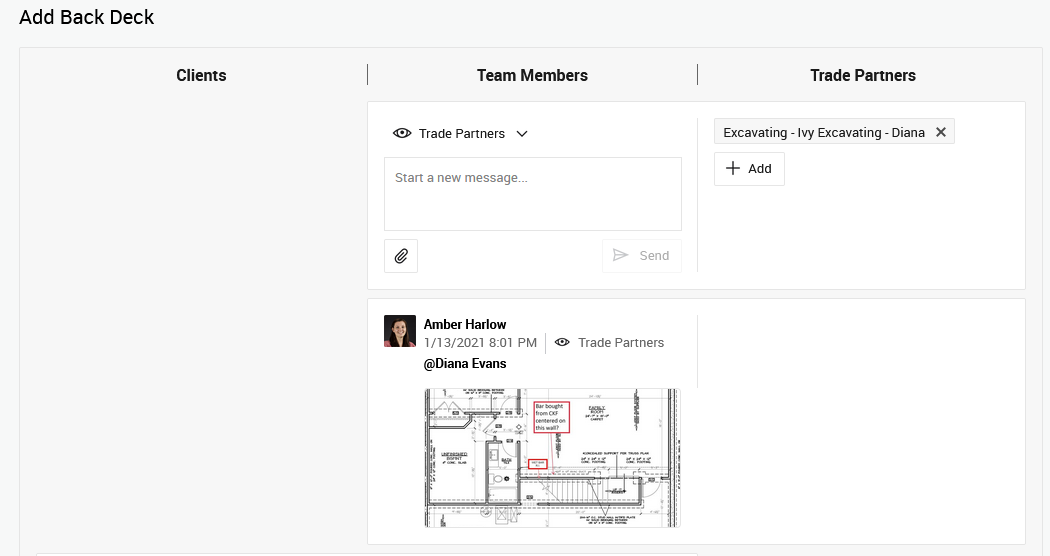 Communicate privately with specific trade partners by using an @ with the trade partner's name to include them on that particular comment. You can use the file attachment icon to include photos or files with the message as well. Any attached files or photos will be included as an attachment on the comment notification.
THREE WAY COMMUNICATION
Need to coordinate clients with a trade partner? Turn visibility on for all three columns as needed to start these conversations. The Team Member column sits in the middle allowing you to keep tabs on the conversation and mediate as needed.
Feel unsure about trade partners speaking directly with clients? Depending on the trade partner, you may decide to be the true middle-man by policing conversations. Simply send comments to a trade partner and communicate with them privately. Then turn around and rephrase any questions or needs back to the client. This way the two parties never speak directly with each other but the project still moves forward.
Here's how it plays out on the comments page on the Exterior Painting item. Start at the bottom at work your way up. If it's a little too small for you to read in this email, just click the image to see a bigger version.




The team member gets to see everything, tracked in one spot, but the client doesn't see the painter's comments and vice versa. Of course, the builder could have opened up 3-way conversation, too.

And this isn't just for selections. Don't forget that you have comments on to-do and warranty items, plus client-free conversations on the schedule, purchase orders and bids.