For any bid request that you create in CoConstruct, you will be able to communicate individually with your different bidders.
To do this, you will first need to send the bid request to the trade partners who will be bidding.
After the request is sent, you can click in to view the bid request at any time and if you scroll down, you will see a spot for all comments related to the bid.
Each tab in the comments section will contain a full history of interactions with the bidder. Some of these interactions will be system-generated messages to let you know when a bid request or reminder has been sent out by CoConstruct. Others will show you comments that are posted either by your team or by your bidding partner.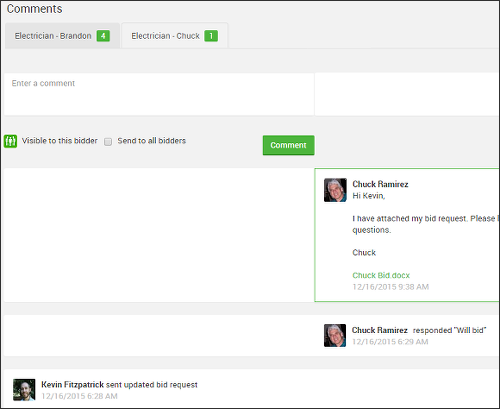 Posting to all bidders vs. one bidder
If you check the option to "Send to all bidders" before you post your comment, then the same comment will be emailed to every bidder involved with the request, provided that they have not replied to let you know that they will not be bidding.
Your comment will be posted in each individual tab in the comments section for your reference.
Even if all bidders are included on a comment, be aware that they will not see the other bidders involved with the request, and any replies from your bidders will not be shared beyond your internal builder team.
To post a comment privately to a single bidder, leave the "Send to all bidders" option unchecked.
Posting a private comment to your internal team
If you want to post private notes or comments related to a given bidder, make sure you click the visibility icon to toggle off trade partner visibility so that your comment will be "Not visible to this bidder".
When this is done, the comment box will only cover the left half of the page for your builder-side communication and no email notifications will be sent to the trade partner.
Resending a bid request
At any point, you can resend a bid request to one of your bidders with the "Resend bid request" button that you'll find at the bottom of the bidder's individual comment thread.
File attachments from bidders
When one of your bidders sends in a file attachment, you will find it in the comment history as well as at the very bottom of the bid request.
These files will not be shared with the other bidders on the project by default, unless you specifically update the file visibility preferences to share the file with ALL trade partners.
Note that you can also upload files that you may have received from a bidder outside of CoConstruct, to keep that file tracked alongside their other notifications and comment history.
"Updated" icons for new comments
When your bidders or other team member post comments on a bid request, you will see a count of the updates that need to be cleared.
These icons will show up on the Main Menu, in the "Bids" tab, next to the corresponding bid request, and within that bid request's comments section.
The new comments will be highlighted with a green box.
Once you review everything and, if applicable, add in the official bid amount at the top of the page, click to clear all of the updates for a given bidder. Then do the same for the other bidders for whom you have uncleared updates.
Keep in mind that you will only be able to clear these updates if you are the "Update Clearer" for the project. For more information on clearing updates, the update icon.