Ever have a great Specs & Selections sheet on a project that you wish you could use as a template?
You can create a template from a project's specs & selections by going to Templates > Specs/Selection Templates. At the top of the page, click "+ New Template" and choose the "Copy from existing project" option.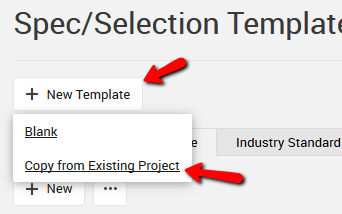 Besides picking a project and giving the new template a name, you can choose if you want the attached files to copy, too. If you primarily have project-specific quotes or attachments on the specs & selections page, you may want to pass on the files. But, if you have lots of reusable product info, then go ahead and copy the files. You can always come back and clean out a few files from the template later.
And that's it.
All of your selections, choices, specs, client info -- even budget codes -- come together in a new template that is ready to use on future projects.
Yes -- your accounting codes transfer, too. So, if you've been waiting to use CoConstruct's budgeting features, all you need to do is set them up on one project's spec sheet, turn that into a template, and you will save tons of time setting up your future jobs.
Especially if you're new to CoConstruct, and are struggling to find the time to even just set up the most basic things on your template, why not just start by entering real data on a real project's specs & selections page? Then, with this new option, you can always make it a reusable template later.