You can pick and choose between two different views of your main Projects list.
There's a simple and a detailed view, which will let you choose between a high level overview of all of your projects or a page-by-page breakdown within all of those projects.
Switch between the two at any point in time with the gear icon. Whatever view you choose, that's the one you'll see every time you log in unless you come back to that gear icon and change it.
Simple view
In the simple view, you will see a list of all your projects and the number of overdue or updated items on those projects.
This view gives you a higher-level overview of the health of a project, getting rid of some of the information overload from your projects.
Click to the right of the project name for a pop-up that will let you quickly jump to any page on the project. This pop-up will also let you know which pages have overdue or updated icons.
Detailed view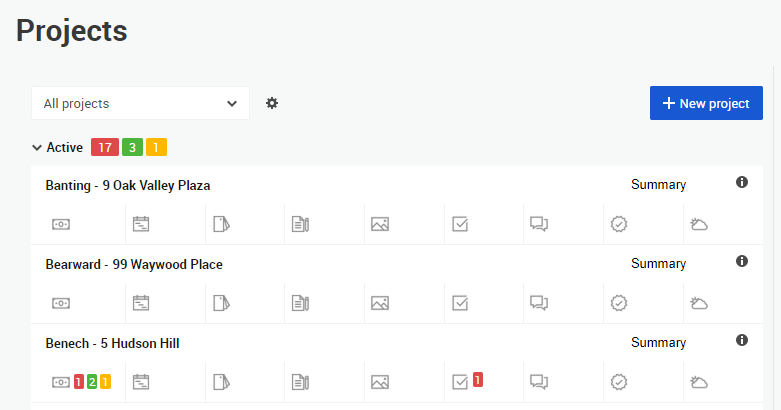 The detailed view breaks out each project into its individual pages, with overdue and update counts for each area of the job displayed directly on your Projects page.
This lets you see a breakdown of specific areas of every project, all at once. As an example, you can quickly scan down a column to see the overall health of selections or schedules for all of your projects.