The Financials Summary page is the financial hub for your project. To make the most of it, take advantage of these helpful perks:

1. Color Coding - We don't want you to overlook a change order that's still sitting in draft status or a document that hasn't been approved. Our color coding system will help you quickly see the status:
"Approved" change orders are green
Change orders "Awaiting Approval" are yellow
"Draft" change orders are gray
If you're color blind, don't worry -- we still write the status under the change order title.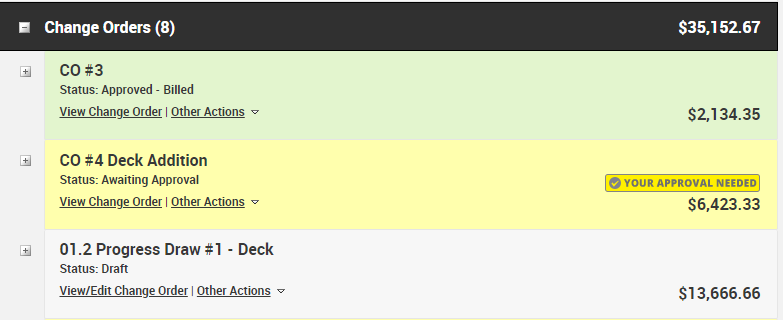 2. Expand/Collapse - Sometimes you want to see it all. Sometimes you don't. Click the "+" and "-" next to each major section and change order heading to expand or collapse the view. The gray box in the upper right corner allows you to "Expand All" or "Collapse All" headings and change order sections.
3. Group By - That handy gray box also has options for viewing change orders and selections by "Status" or "Category."
The "Category" view has sections for each category on your Specs & Selections. The "Other" section houses any line items created from the "Extra Charge" portion of change orders. This view also displays a total cost for each section. When you first visit the Financials Summary, you will likely see this grouping.

Let's say you have an "Appliances" category on your Selection Sheet where each appliance has its own selection item and budget. The category view shows you exactly what's been spent on appliances, and the net budget variance for all items. This is helpful for viewing budgets and variances for specific aspects of your projects.


The "Status" view has sections for change orders, locked and unlocked selection items, with a tally for each. When you click on the "Change Orders" or "Variations" option in the top menu bar for your project, you will automatically see the Financial Summary grouped by status.