CoConstruct's Invoicing lets you easily generate fast, accurate, and professional invoices that get you paid on time.
You can easily leverage your project financial data that already lives in CoConstruct to keep your clients informed and manage your cash flow with progress invoicing, all while maintaining the professional, polished image of your business and avoiding the hassle of maintaining multiple systems.
Creating new invoices
In CoConstruct, you can create new invoices with the flexibility you need, letting you set up progress invoicing from your estimate or budget actuals, invoicing automatically from change orders, and letting you create any other one-off invoices as needed as well.
Learn more about creating invoices in CoConstruct.
Learn about the components that make up an invoice.
Open book, cost-plus, and T&M - Progress invoice from your budget actuals
For open book or cost-plus projects, you can progress invoice in a flash from the actual costs within your budget that you already have in CoConstruct. Everything you need to generate an invoice on your project is already there. Whenever you want to create a new invoice, you're just a few clicks away from grabbing your current costs and bringing them into an itemized invoice that automatically adds in markup and margin.
Fixed price - Progress invoice a percentage of your estimate
On fixed price projects, you can progress invoice a percentage of your estimate. Simply enter a percentage complete for each accounting code on your budget and CoConstruct calculates the correct amount for the current billing period
Invoicing directly from change orders
Have clients that change their minds? When your client approves a new change order, CoConstruct can take care of the invoicing for that, too. With this setting enabled, CoConstruct will pull the amount owed for each change order into a new invoice -- either as part of your next scheduled progress bill or on it's own to send out a request for payment immediately.
Learn more about invoicing from a change order.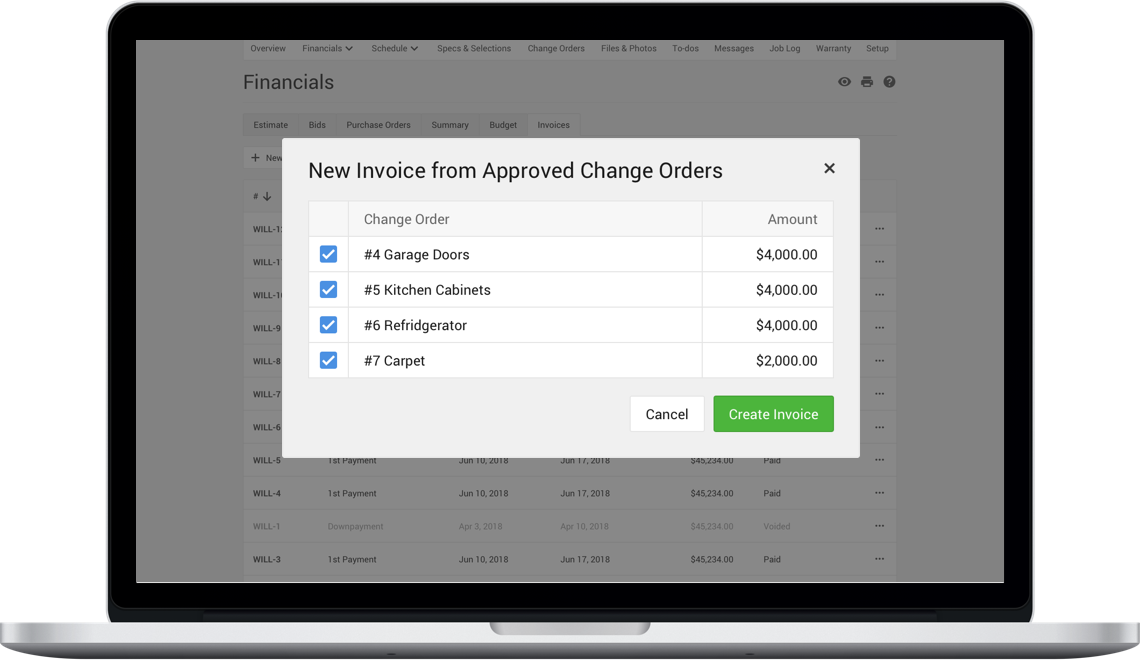 Convenient issuing to your clients
Send your invoices directly to your clients by email with a single click.
Without logging in, your clients will have all the details they need in order to pay you on time, and can reply directly to the email to post a comment back to you on the Messages page.
Of course if your clients are logging in, they can access the same invoice information directly in the site.
If you make updates to an invoice later on, you can choose whether to send out a new email to let your clients know.
Learn about what your client sees when you issue an invoice.
The life cycle of an invoice
When a new invoice is created, whether from scratch, from your budget actuals, estimate, or a change order, it will immediately be in "Draft" status.
Draft invoices are not visible to your clients until they are "Issued." Note that an invoice may be issued without sending an email to the clients, in which case it will be visible to the client when they log in, but they will not receive a separate email.
After issuing an invoice, you can log payments against it manually. Or, if you use our QuickBooks integration to automatically sync the invoice with QuickBooks, CoConstruct will automatically mark your invoice as "Paid" when the invoice is fully paid in QuickBooks.
Learn more about recording payments on your invoices.
If you need to, you can always resend an invoice or void an invoice that was issued in error.
The Invoices page and financial overview
On the Financials > Invoices page, you and your clients will have a summary view of all invoices for the project with high level details about the amounts and due dates. You will even see which invoices have been synced with QuickBooks, as well as a total of the invoiced amounts, payments, and amounts due across the entire project.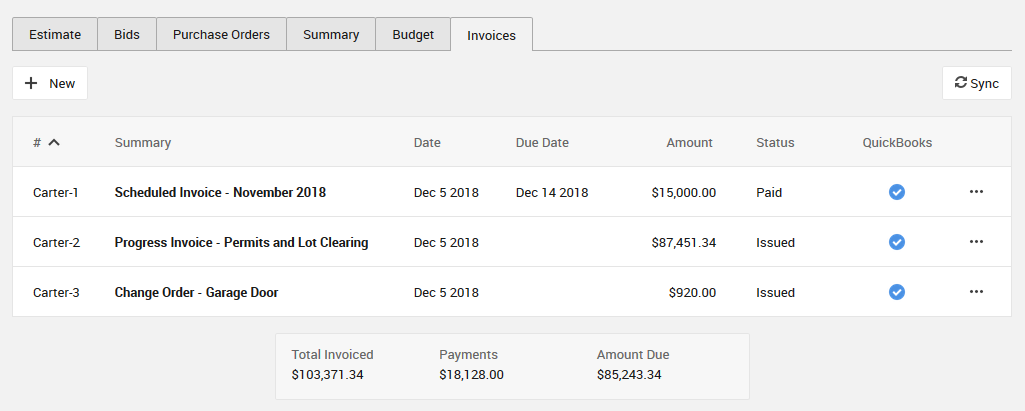 You and your clients also have a snapshot of their invoiced totals on their project's Overview page and in the mobile app, showing how the invoiced amounts and payments stack up against the project's overall cost.
Sync with QuickBooks
Want to make it easy on your accounting staff? Invoices in CoConstruct can be set to automatically sync to QuickBooks - on both Desktop or Online. So your folks in the office can keep track of your payments in QB like they're already doing, and once invoices are paid in QuickBooks, they'll be marked as paid in CoConstruct.
Both at the account and at individual projects, admins can set invoices to automatically push to QuickBooks when they are issued. If this setting is off, invoices can still be pushed to QuickBooks from the "..." menu on the Invoice list.
Learn more about pushing your CoConstruct invoices to QuickBooks.
Permissions to control or limit invoice functionality
Admins can control the extent to which other builder users can create, send, or view invoices.
Builders with Edit Financials will be able to view, create, and edit invoices.
Builders with View Financials will be able to view invoices.
Clients will always be able to view any invoices that were issued on their projects, including invoices that were voided after being issued, but excluding any current drafts.
Trade partners do not have visibility or the ability to interact with invoices.
Invoices availability by project type
Invoices are available on Active and Warranty projects, but are not enabled on Prospect or Archived projects.
On "no client access" projects, invoices may still be created, but there won't be an option to email them out since the project will not have a client.