CoConstruct's Proposal tool lets you create professional and customized contracts and agreements to present to your clients in a way that is easy to use, flexible to fit your business, and fully integrated with the rest of your project details.
WHERE TO START
Pricing and Scope
By the time you're ready to present a more formal initial proposal or even final contract to the client, you have pieced together the price and scope for the project. Enter these details of price and scope on the project's Estimate or Specs & Selections areas. The proposal will simply be crafting an introduction and closing to surround these project specific details. See the list of areas below you may want to check out to get started:
CREATING THE PROPOSAL
Now that you've got the project's scope and price all lined up, you're ready to create a proposal for the client.
Navigate to the Proposals area in the Financials section of the project to get started. Learn How: How do I create proposals and contracts?
SENDING THE PROPOSAL
Once the proposal is all set to go, you can select which clients and team members will sign and receive the document. Preview the document to check out your work before sending it out for approval.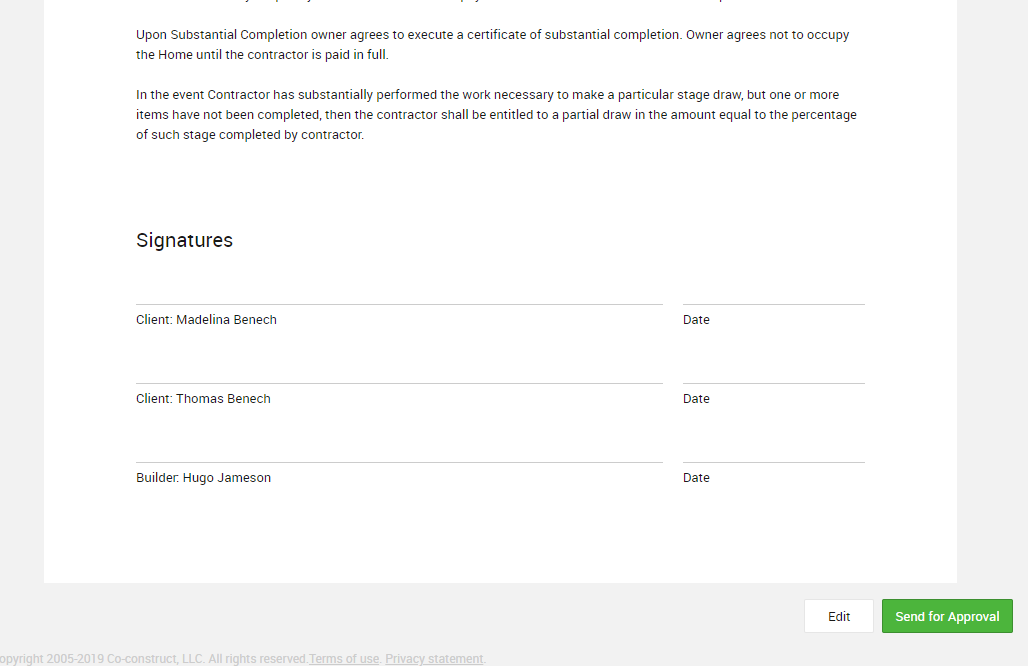 Check out the additional articles below for more information about setting up electronic signatures and communicating proposals to clients.
How do I request electronic signature on proposals?
What do proposal emails look like?
TEMPLATES
Consider building out a full array of proposal templates that represent common types of projects you perform and typical agreements you send out. Any project proposal can be turned into a template with a simple click of a button.
Learn More: How do I create a proposal template?
Format and customize these proposal templates to fit with your business and style.
Note: This enhanced proposal function is only available on CoConstruct Core, Standard, and Plus plans.