Plan and price out your projects with a tool that's easy to use, flexible to fit your workflow, and fully integrated with the rest of your project management system. Use the CoConstruct Estimate to budget a project's starting or contract price, to simultaneously construct all relevant selections and choices, AND to set important groundwork for future financial documentation.
WHAT YOU'LL NEED
TOOLS OF THE TRADE
THE BASICS
HOW TO GET STARTED
BEYOND THE ESTIMATE
WHAT YOU'LL NEED
To get the most out of your CoConstruct estimate, there are FOUR key pieces of data to gather.
Prices = The raw costs making up the project total.
Percentages = The markups, margins, and taxes you attach to project costs to account for profit, tax, contingency, overhead, commission, and more.
[Optional] Scope of Work = The details and descriptions provided alongside price to explain project specifications to your team, trade partners, and clients. Looking to turn out a proposal or share scope with trade partners? These automatically populate your proposals and bids so paste in any text you'd like to share now or fill it in later!
[Optional] Accounting Codes = The cost code buckets you'll use to classify your project costs and track how your estimate compares to the actual job costs. Whether these codes come from your accounting software or elsewhere, these codes are vital to building out a project's budget. Your account comes pre-populated with an example code that works for lump-sum job costing and invoicing. Feel free to add more depth as needed.
Learn More: Accounting Codes Overview
Need help getting these data points in CoConstruct?
Learn More: Transferring your Current Estimate into CoConstruct
TOOLS OF THE TRADE
As you prepare to estimate, keep in mind some additional tools available to you in CoConstruct that pinpoint accurate project pricing, offer a master copy of standard language and scope, leverage project measurements and dimensions for quick estimating, and combine measurements together with mathematical equations.
Cost Catalog
Storage database for common prices and costs. Connect these costs to relevant templates and projects for quick, accurate estimating. As subcontractors and vendors change prices, make any updates in the catalog then push those to impacted projects as desired.
Learn More: Cost Catalog Overview
Spec/Selection Templates
Master template for housing common scope of work, selection options, allowances, and costs. Use the CoConstruct template library to store standard financial workflows for various types of projects. Bring any existing project's estimate or specs/selections into the template library OR talk to your Coach/Support about importing your existing data.
Learn More: Specs/Selections Template Introduction
Parameters
Key project measurements and dimensions. Plug in a project's measurements to quickly populate appropriate quantities.
Learn More: Utilizing Parameters for Estimating
Formulas
Mathematical equations that combine parameters or other numerical values together to calculate accurate project quantities.
Learn More: Calculating Quantities with Formulas
Note: Some of these tools are only available on certain CoConstruct plans.
THE BASICS
The basis of financial data in CoConstruct comes from a three tiered organizational structure. This structure provides the foundation for inputting descriptive scope details, costs, quantities, selections options, and more.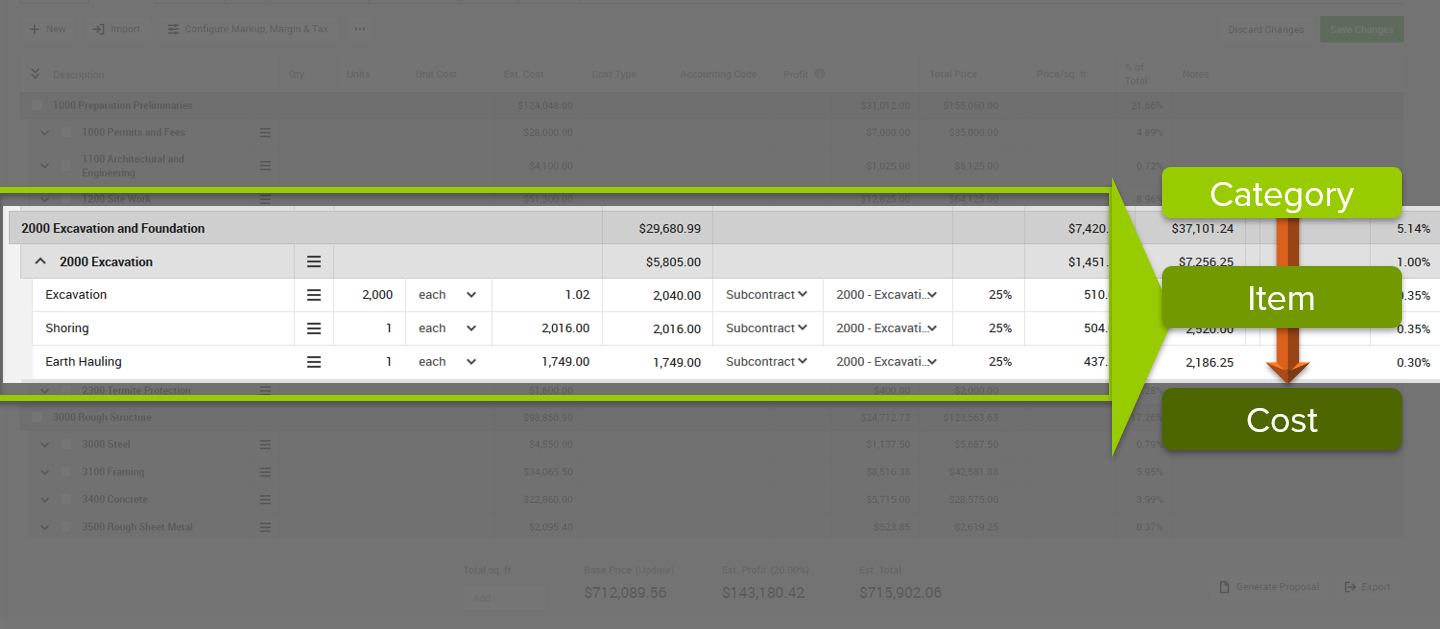 Categories
The highest organizational bucket used to sort and order the estimate. Categories often follow the order of construction, construction phases/divisions, or rooms/areas under construction. Your account comes pre-populated with an Industry Standard template with categories formatted to resemble the National Association of Home Builders (NAHB) structure.
Organize or structure data more in line with CSI divisions? Contact Support for the full template.
Items
The second tier of financial information that represents the major building blocks of the project. These either contain financial data for Specifications or Selections, and house important scope of work details.
Learn More: Specification vs Selections Items
Cost Lines
The smallest, third tier of financial information where individual prices and costs live. Individual cost lines roll up to a total cost for the item as a whole so those individual units represent all the relevant prices needed to represent the total cost of the project. Each cost line receives a quantity, unit type, unit cost, and accounting code.
HOW TO GET STARTED
Start on any Prospect or Active project on the Estimate page of your project.
Add Items = Use the "+ New" button to add the major building blocks of your estimate. Chooses to add items from scratch (by choosing to add a Specification or Selection) OR pull from your Specs/Selections template library (by choosing to Copy from Specs/Selections Template).
Learn More: Creating an Estimate
Enter relevant scope and cost details for those items, including any details for selection choices.
Learn More: Setting up Choices
Configure Markup, Margin, & Tax = Use the "% Markup, Margin & Tax" button to add any percentages on top of the costs of a project.
Learn More: Configure Your Markup & Tax
Setting up a Fixed Price Project? Make sure to set the contract/starting price of the project by clicking the green "(Update)" link at the bottom of the estimate.
Learn More: Setting Your Base Contract Price
BEYOND THE ESTIMATE
Starting from the Estimate ensures that all the data you've entered carries over to other vital areas of your project. While you've been creating an estimate, keep in mind that you have simultaneously built your Specs & Selections sheet. These two areas of your project directly feed into each other and start the financial chain of information. From the estimate OR Specs & Selections, leverage your financial data on: